Mountain Adventures: Dancing My Life, Meredith Kenny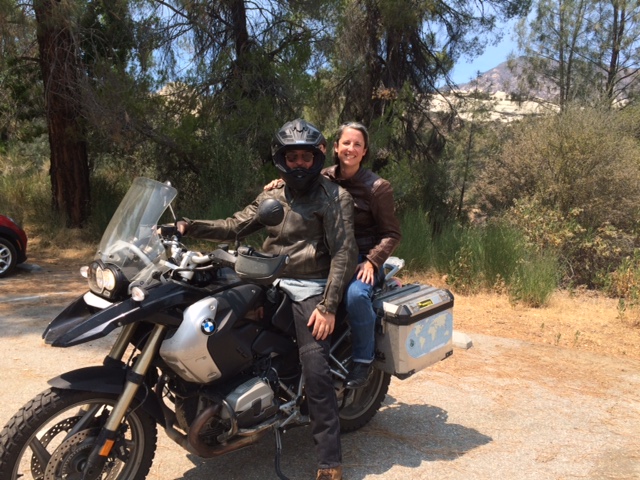 Do you ever decide to do something, half plan it, and figure you'll see what happens when you get there?  I do this all the time in my reckless optimism.  Sometimes it totally fails.  This past July it worked.  The desire to practice new ways of moving in the world lead me into the mountains of Ojai, California and Jackson Hole, Wyoming.  This story ends 10 450' above sea level. 
It all started back in January when I received coach Eric Orton's Mountain Running Academy email outlining the running workshops he would be offering in 2016.  One in particular caught my eye: The Cool Impossible Camp, a three-day running camp named after Eric's book.  I had read his book, liked his philosophy and was practicing the foot strengthening and balancing he detailed on my own.  "How awesome would that be if I met Eric and practiced in person," I asked myself.  And I would get to play in the mountains!  I grew up a long distance runner, stopping after repeated knee injuries.  I had not run consistently

in ten years

.  Eric works with a forefront foot strike running form that I had never learned … "Maybe I can run again if I practice this new form."  My imagination was off and running.  Could I train my body to keep up?
My main movement practices these days are capoeira, cycling, yoga, and experiments with parkour.  I've realized that I am drawn to movement forms that require little equipment, that are all about how we humans can move like superheroes.  I want to practice navigating the world with joy and presence in movement, whether it's getting from A to B or to nowhere in particular.  That's also where Jay Fields comes in.  
Jay is my somatic mentor.  If you're not sure what that means, don't worry, I had no idea either when we met two years ago.  I'm still discovering the subtleties over time as our work together deepens. In a nutshell, Jay helps me practice getting out of my head and resourcing my body,
 actually feeling my experiences and not just thinking through them. This seemed connected to my running past, felt memories that linger of my mind getting quiet in motion and the running highs that set me free.
Jay is based in California, she guides me through our sessions over Skype.  Prior to July we had only met in person once, right before she became my mentor. The idea of working with her in person had been on my mind for awhile.  When I pitched the idea of going to Ojai before Eric's run camp in Jackson, Jay was game. Adventure on!
Ojai, California
Over my four days in Ojai, Jay and I met several times like we do on Skype, and also mapped out my adventure into the mountains. Before this, I had never done an intentional ritual or ceremony in nature off on my own.  We formed a plan where I would go off into the nearby mountain trails for the afternoon and well into the evening.  I wanted to see the stars.  Jay loves riding her motorcycle, and her eyes lit up when she asked, "Do you want a ride on a motorcycle to the trail?" Without hesitation, my answer was: "YES!" For someone who loves riding a bicycle year round everywhere I go, I was surprised this moment was the first time I had considered a motorcycle. Jay arranged for her friend Ruben, who taught her to ride, to meet us.  Jay would follow behind in her car and leave it for me to get back down the mountain after nightfall.  I had a healthy balance of nervousness and excitement when I got on Ruben's motorcycle.  It did not take long for me to realize I loved it though.  As we carved our way up the mountain, completely connected to the road and all that surrounded us, I could not stop grinning.  We were dancing with the road.
Jay and Ruben headed back down the mountain early afternoon and I set off into the trails.  I had decided that since later in the week I would be doing a lot of running, my challenge in these trails would be to sit and stay with myself in stillness for two hours.
Just sit.
This would be the longest I had ever attempted to intentionally sit and only sit.  I'm not good at being still.  I had to practice being really kind with myself, to stay with myself and just let being there happen.  This was a new way of moving in the world for me, the necessary pause in movement.  It was not easy, there were moments of wrestling with myself in epic internal battles to just get up and walk away.  After a celebratory victory dance with the trees for actually sitting for two hours, I created my own small ceremony to put movement to words I've strung together over the years that have become my mantra.  Putting movement to these words have made them even more meaningful and real to me.  Even months later, when I say these words, I have a felt memory in my body of what they feel like in motion.
For the rest of the afternoon and well into the evening, I hiked and explored the trails.  The world seemed huge, and small all the same time out there. After the sun set, I headed back and took a wrong turn on the trail – as I often do in life.  I was mildly worried that I would not find my way back to the car until I heard the three people I had passed twenty minutes earlier calling their dog back to the trail.  I followed them calling, "Riley!" back to where I started. When I was leaving Ojai, I told Jay that the work we do together helps me dance my life. And that means everything.
Jackson Hole, Wyoming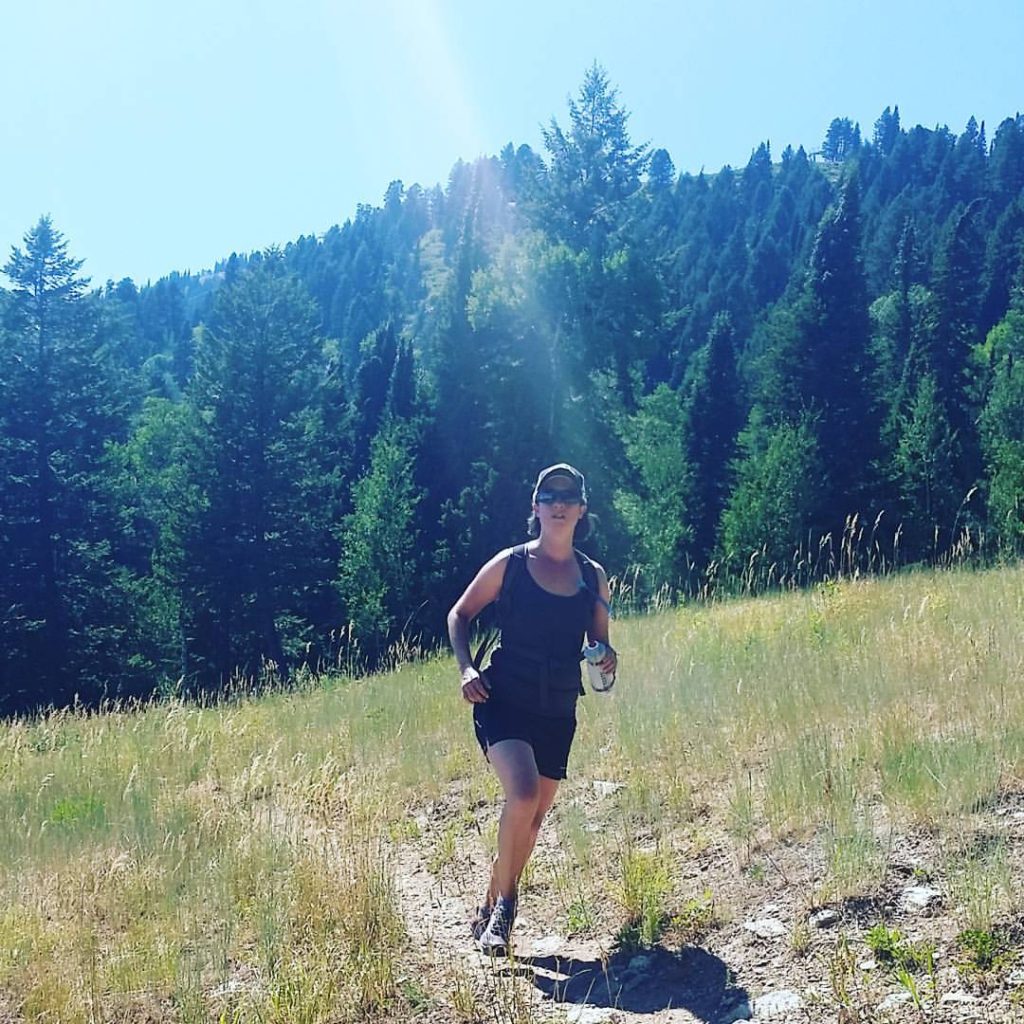 Team Waffle connected really quickly. This is the name the other runners and I gave our group as we trained together over three days and constantly talked about the waffles we were going to eat on our last day at the restaurant beside the tram station high in the Grand Teton Mountains.  We were soon calling each other by our new nicknames: Red Baron, Lightfoot, MFM, Run DMC, Critter and Skip (that's me).  We had come from all over the U.S, the U.K., and Canada to practice trail running with coach Eric Orton. When you watch Eric run, he looks so effortless and light.  I wanted to learn how to move like that!
Our days were split into morning coaching sessions at the base of the mountain, then we would take the tram up the mountain in the afternoons to practice running on the trails.  It had been many years since I ran consistently and I was worried about injuring myself again.  Though I was having a lot of fun, by the start of the first afternoon's trail practice, I had not found my groove yet. We ran with Eric until he stopped us at the top of a curved section of trail that was covered in rocks. The drill would be to run repeatedly down and up this very technical section to practice descending.  Eric told us to dance with the rocks.  Something clicked! I flew down and up and down and up that section of hill.  I felt loose, and playful, and I was staying with myself in the form. This was key, the forefront strike only works if you stay under yourself.  Wait!  This was the same work I was doing with Jay, only in a different from.
This is also where I got my new nickname, Skip.  Well, Skip for dancing with the rocks and also because I took a few wrong turns on the trails, but you know by now this is normal for me in navigating the world.
The days of group training with Team Waffle were exhausting, inspiring and full of support, encouragement and a lot of laughter. Eric is a very intuitive coach and helped us all learn in our own ways. This all lead up to our solo trail runs on the last afternoon.  Eric laid out the trail for us and we ran the route one by one, the first time we were completely alone on the trail.  The forefoot strike I had been practicing was feeling good and I was much more loose.  There were some challenging ascents and descents on the trail. As I ran, I concentrated on staying with myself, practicing the form and trusting the process. I also had a lot of fun. I was running in the middle of the Grand Teton Mountains!  I was moving in a new way and exploring a new part of the world because of it.  The solo run was not easy for any of us, we all had fears to face and physical challenges to navigate, but I felt it all.  I was fully present in the movement, and that felt incredible.
I've found it challenging to put my experiences with Jay and Eric into words.  It reminds me of a favourite quote from the movie Playing by Heart: "Talking about love is like dancing about architecture." … Which is also like writing about running.  I'm truly grateful for all I learned on my adventure, and feel it every moment I am able to stay with myself as I continue to explore moving through the world.  
After we finished our solo runs at the top of the Grand Tetons, Team Waffle hiked back out together toward the tram.  Eric had one final lesson up his sleeve for us though: we can always do more than we may think.  From the trail we were on, we had to climb one more massive incline to get to the tram station and restaurant. Eric said we were going to run up it. What?!  He sent us up one by one.  And you know what, we did it! 
Red Baron was the last one to run up.  From the top of the incline, the rest of us watched him making his ascent.  MFM said, "We should all go back down and run the Baron in together."  We gave our all to run across the finish line as a team.  Then we celebrated with those waffles we had been talking about in the restaurant beside the tram at 10 450'.