The Labrador Project is a new multidisciplinary arts collaboration that brings together four remote communities within Labrador. Professional dance artists, filmmakers, and theatre artists will work together with youth aged 9-11, guiding them on a self-led creative journey, exploring their own communities as well as their own personal stories.
We will be working within the following communities: North West River,  Sheshatshiu, Cartwright and Hopedale. Our creative journey will culminate in a public screening of our participants' works at the Labrador Creative Arts Festival in 2018.
The Labrador Project Team:
Yvonne Ng and company member, Irvin Chow with filmmakers, Chelsea McMullan, Doug Nayler, and Arts Education Manager, Laura Cournoyea.
This program is generously supported by: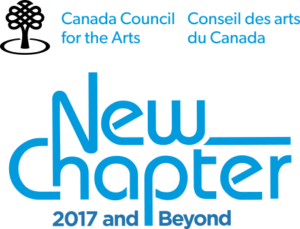 This is one of the 200 exceptional projects funded through the Canada Council for the Arts' New Chapter initiative. With this $35M initiative, the Council supports the creation and sharing of the arts in communities across Canada.