Support tiger princess dance projects! Announcing our NEW Patreon Page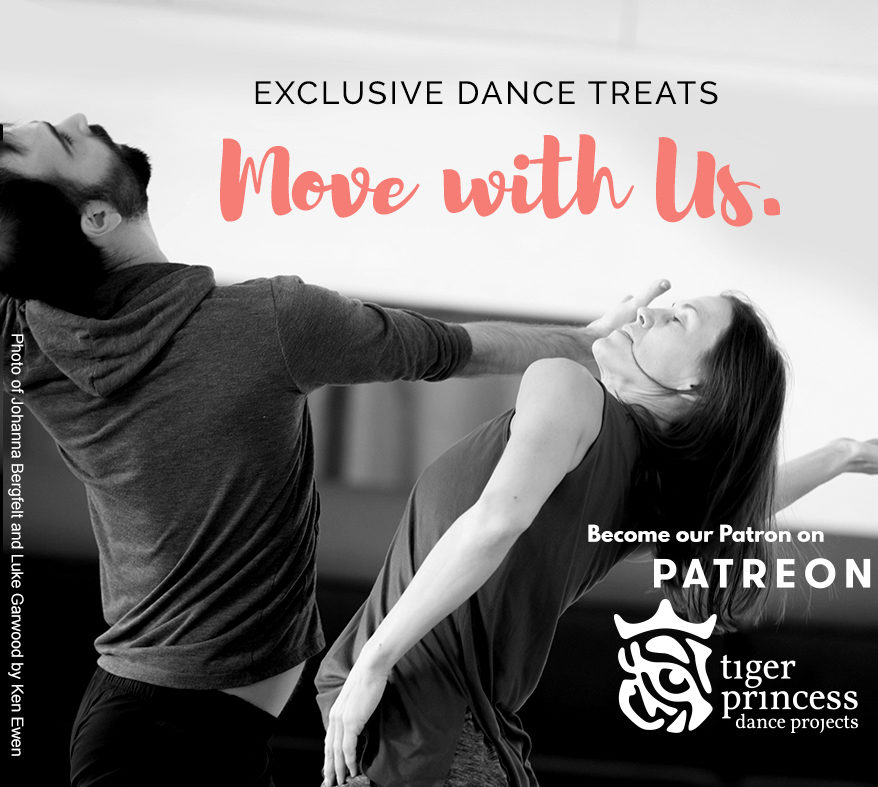 Announcing our new Patreon tiers to give you exclusive access to our digital content creations and a behind-the-scenes look at tiger princess dance projects HERE!
As with many dance organizations from across the nation, due to the pandemic, we, unfortunately, had to close our doors to our planned programming for the foreseeable future this year including our presentation, Time Travel while Standing Still with Dance Matters and a long list of arts education programs for youth and senior citizens in various locations. 
It may be a while before we can return to the stage again and create new experiences in the community. For the time being, our team is working away at some at-home activities and we hope that we can reach out to our most beloved community members at this time. 
Our new Patreon page launches today with our NEW dancefilm, THAT MOMENT WHEN featuring Johanna Bergfelt and Luke Garwood directed by Rita Ferrando. 
We hope that you may consider subscribing to our content. Stay tuned for some exciting updates, footage, and exclusive content. This is one way you can help support us at this time. Patreon is a membership platform that helps support artists and their work so that they can get paid. It provides subscribers rewards and perks through exclusive content.
We are working to launch some exciting content for all of you. Check out our page today!
Whether it's through our Patreon page or as part of today's GivingTuesdayNow campaign, any support you are able to offer means a lot to us during this challenging time as we keep the organization moving and our team members paid. 
THANK YOU FOR YOUR KINDNESS 
There are many ways you can help princess productions directly:  
Donate this #GivingTuesdayNow on May 5
GivingTuesdayNow is a global day of giving and unity as an emergency response to COVID-19. The goal of GivingTuesday is to rally the world to drive a massive, collective spike of generosity, citizen engagement, business and philanthropy activation, and support for communities and nonprofits around the world. We invite all Canadians and people from around the world to join us in demonstrating the power of generosity.
Donate at CanadaHelps.ca #GivingTuesdayNow #GivingTuesdayCA

Subscribe to become a Patreon member
Join our princess productions Patreon channel and pay a small amount for exclusive access to the stuff you love from us! You'll be rewarded with our new releases and more. Sign-up today at Patreon.ca.
How our Patreon site works:
Tier 1: $1 (The Opening Act)
Welcome to tiger princess dance projects! By joining The Opening Act, you gain access to our show archives and can view past footage of our productions, along with brand new dancefilms available exclusively to our Patreon members.
Tier 2: $3 (The Spectacle)
Looking for more? Join The Spectacle for behind-the-scenes footage and interviews from our ensembles. Get a closer look at the artists behind our productions and the process.

Share the news with your friends and family on socials!
Here's the shorten link: http://ow.ly/IC5Q50zxlEE and tag us at @tigerprincessdanceprojects.