SoloDuet: Metamorphosis of a Solitary Female Phoenix & Magnetic Fields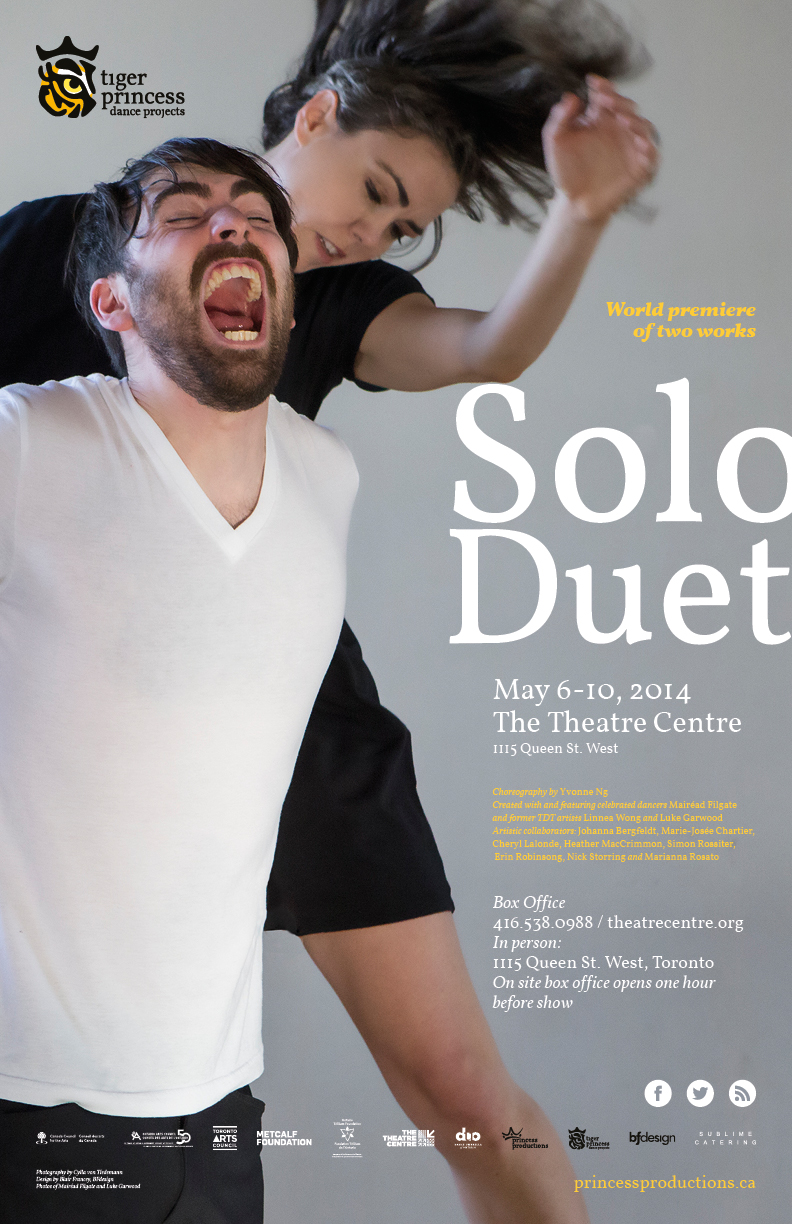 SoloDuet:
Metamorphosis of a Solitary Female Phoenix
&
Magnetic Fields
May 6-9 @ 8pm, May 10 @ 4pm, 2014
The Theatre Centre (1115 Queen St. West, Toronto)
Two heart-stopping new dance works choreographed by award-winner Yvonne Ng that explore elements that shape us and shape how we are perceived.
SoloDuet presents two new works, created with and featuring celebrated dancers: Mairéad Filgate and former TDT artists, Linnea Wong and Luke Garwood.
ARTISTIC COLLABORATORS
Johanna Bergfeldt, Marie-Josée Chartier, Cheryl Lalonde, Heather MacCrimmon, Simon Rossiter, Erin Robinsong, Nick Storring and Marianna Rosato.
ARTISTIC DIRECTOR
Yvonne Ng is an exciting, instinctive choreographer whose work, which has been performed across Canada and internationally, inevitably braids her South East Asian heritage with that of her adopted Canadian culture.
"My work is movement based and takes my body as the subject and a starting place, drawing from the closest experience of matter that I will ever have – the insides of myself – the interior landscapes of the self."
-Yvonne
BOX OFFICE
*$28.00 General Admission
*$20.00 Seniors/Arts Workers/Students
ADVANCE SALES
416-538-0988
http://theatrecentre.org/?p=2533
In person: 1115 Queen Street West, Toronto
On site box office opens one hour before show
*All ticket prices INCLUDE the facility and ticket-processing fee of $4.00 + HST.
Photo by: Cylla von Tiedemann
Design by: Blair Francey
Dancers: Mairéad Filgate & Luke Garwood