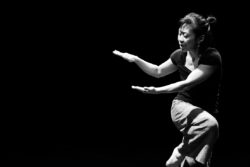 At the beginning of July, Yvonne performed her solo Weave…part one at Dancing on the Edge Festival 2017 in Vancouver, BC. Peter Dickinson gave his thoughts on the solo in his review of Edge 1, a mixed program of dancers from around the world. On Weave… part one, Dickinson had this to say:
"Representational gestures also figured in Yvonne Ng's Weave … part one, a solo in which she tells the story of her mother's complicated patrimony through speech and movement. However, for every rocking back and forth of Ng's arms to indicate a swaddling baby there was also a through-line bodily grammar of more formally repetitive and non-expressive gestural sequences, the patterning of Ng's limbs, when combined with her talk, putting me in mind of the mathematically-inflected work of Sarah Chase. Additionally layered over top of this is a meta-commentary in which every so often Ng will comment on either the appropriateness or the ridiculousness of the particular movement she is executing. The approach works, and not just because the petite Ng, artistic director of the Toronto-based tiger princess dance projects, is such a charismatic performer. The combination of deconstructed formalism and emotional lyricism captures the complicated story of Asian feminine identity that Ng is trying to tell, which we discover is as much about finding an anchor for herself where her mother had none."
To read the rest of Dickinson's review on Edge 1, click here.