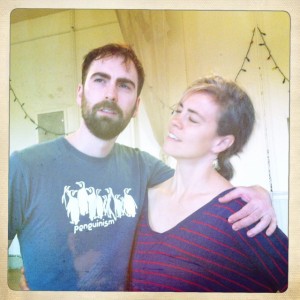 Luke Garwood and Mairéad Filgate in Magnetic Fields by Yvonne Ng
Over the past two weeks, Yvonne, Luke and I have returned to the studio together to remount Magnetic Fields for Asian Heritage Month Festival 2015 at the University of Toronto. An excerpt of the duet will be performed in a mixed program alongside several other music and dance performances tomorrow night for the festival's gala performance. And admission is free! Check out the full details below.
It's fairly rare these days to have opportunities to revisit a piece and perform again and it always reveals new layers of the work as we rediscover, redefine, and find new meaning in.  We are all feeling very fortunate to be able to come back together now and also (fingers crossed) next fall to tour to Labrador, to this incredible artistic team and a beautiful work that we love.
Thursday, May 21st, 2015 | 7 p.m.
Free admission when you register at asianheritagecanadian@yahoo.ca
Innis College Town Hall, University of Toronto; 2 Sussex Ave