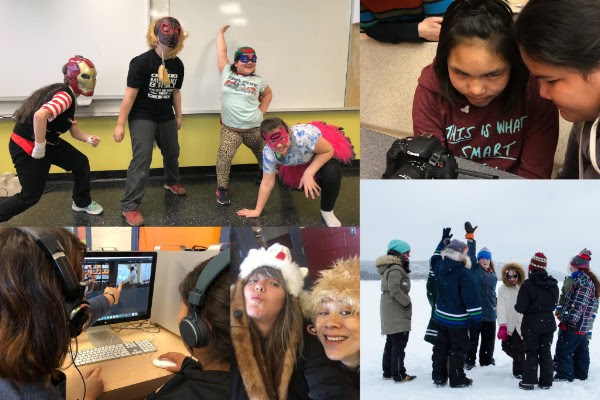 It has been an inspiring journey working with these talented emerging young filmmakers in all four Labrador communities as part of The Labrador Project.
In every participating community, we held a local screening of each of the four dance films that toured to North West River, Sheshatshiu, Cartwright, and Hopedale in Labrador. As part of the occasion, each town hosted a local event to celebrate their distinct community culture and unique charms from Inuit drumming to bonfires!
We were thrilled to have premiered the compilation of dance films at the 43rd Labrador Creative Arts Festival, Canada's longest-running children's festival, that took place at Happy Valley-Goose Bay this month. In addition, Yvonne and Irvin hosted dance/movement workshops during the festival to inspire more people through this art form.
The entire tiger princess dance projects team is proud of the accomplishments by these young filmmakers. Last year, we visited the communities and guided youth ages 9 – 11 to explore their own communities as well as their own personal stories through film and dance. The children were faced with a huge challenge of learning to focus and commit to one project. The self-led creative journey went from idea initiation, to shooting their films, and video editing that led to the completion of the final artistic product. They all deserve a big applause for their hard work and the skills they have acquired through this film-making process. Although these were individual project assignments, we were touched to see the children take initiative to build teams and choose to work with each other in groups and shared responsibilities to support each other in the making.
Our Labrador Project is one of the 200 exceptional projects funded through the Canada Council for the Arts' New Chapter program. With this $35M investment, the Council supports the creation and sharing of the arts in communities across Canada.
Notre Projet Labrador est l'un des 200 projets exceptionnels soutenus par le programme Nouveau chapitre du Conseil des arts du Canada. Avec cet investissement 35 M$, le Conseil des arts appuie la création et le partage des arts au cœur de nos vies et dans l'ensemble du Canada.